With our culture's fixation on four-year college degrees, it can be easy to forget that there are still many fulfilling and high-paying jobs in the skilled trades. In fact, that's probably an understatement, as trades like plumbing and construction continue to experience record-high labor shortages. If you're thinking about pursuing a career in the skilled trades, good! Our workforce desperately needs smart, hard-working people in these essential trade jobs. And if you're seeking to maximize your financial investment in a skilled trades career, consider whether one of these seven high-paying trades might be the right path for you.
1) Construction Contractor
Construction contractors accept contracts to build or alter structures, such as houses or businesses. In most states, getting a contractor's license does not require a college degree, only proof of experience in the industry, a passing score on a state contractor exam, and the fulfillment of regulatory requirements like purchasing a contractor surety bond.
While it's true that many construction managers who oversee large-scale general contracting projects do have a bachelor's or master's in construction management, many other people use a trade school education as a springboard to running their own contracting business. A trade school and/or apprenticeship program in construction will give you the skills to one day pursue the entrepreneurial path in the construction industry.
2) Power Line Technician
If you're seeking a robust salary and you're not afraid of high-stakes, high-altitude work, becoming a power line technician might be the path for you. Line technicians maintain the power and/or telecommunications lines that connect homes and businesses to the grid. They tackle problems ranging from downed lines after a storm to repairing and replacing transformers.
Most line technicians get their training through an apprenticeship or trade school program. Depending on the position, a line technician may have to work on call at odd hours or on holidays, but the reward is often lucrative overtime pay. If a natural disaster has affected the electrical grid, line technicians might be working constant overtime in dangerous conditions for weeks or months at a time.
3) HVAC Technician
HVAC technicians help keep buildings warm in the winter, cool in the summer, and well ventilated all the time. They're responsible for installing heating and air conditioning systems in homes and businesses—tricky tasks that require extensive knowledge of electrical systems, building codes, and even math and physics.
Most trade schools offer HVAC technician certification programs, and many take a year or less to complete for entry-level training. HVAC techs can boost their employment opportunities further by acquiring special certificates like the EPA Section 608 certification, which is required for technicians who want to handle refrigerant systems.
4) Plumber
Plumbers install and repair the systems that bring water into and out of our homes and businesses. A plumber's services are essential for safe and sanitary living, and they're unlikely to be automated any time soon. In other words, plumbing is a career with a bright future that also puts a solid salary in the pockets of its practitioners.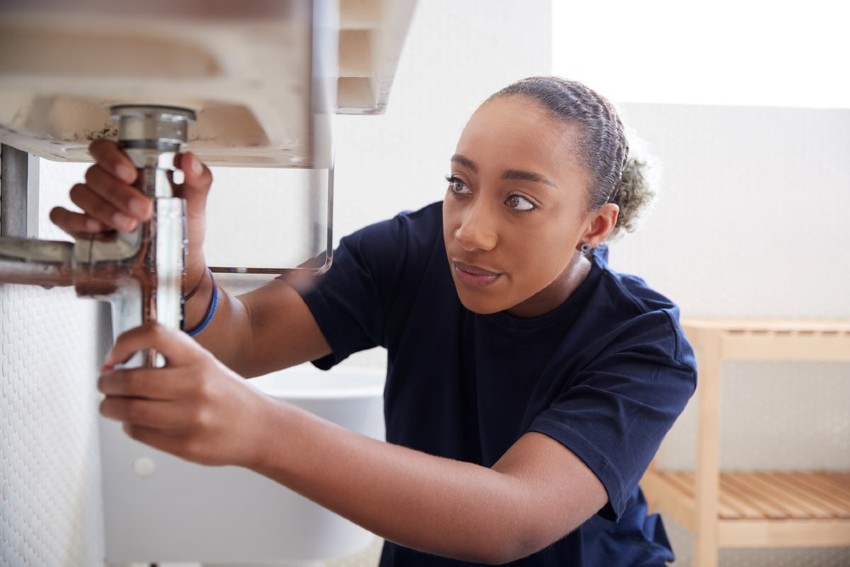 Like many other trades, the best way to become a plumber in most places is through a trade school or apprenticeship program. If plumbers are unionized in your state, check with your local union—many offer apprenticeship programs that will put you on the fast track to a steady, high-paying plumbing job.
5) Diesel Mechanic
A diesel mechanic works on large diesel-powered vehicles that are critical to commerce and industry. Some diesel mechanics might specialize in tractor-trailers, while others might choose heavy construction equipment. Some specialties, like working with cranes or tanker trucks, can provide an especially significant boost to income prospects.
Many trade schools offer heavy equipment mechanic programs to equip you with the basic skills to become a diesel mechanic. ASE certification in diesel service is an excellent start, but those who want to go farther can often develop specialties in certain brands of heavy equipment (such as Caterpillar or Volvo) by taking courses from those manufacturers.
6) Electrician
Electricians install and service electrical systems in homes and businesses. They're among the most highly paid trades because their work is essential for creating habitable buildings and because there's a slim margin for error when working with electricity. An electrician needs to be highly trained and competent to do their job safely.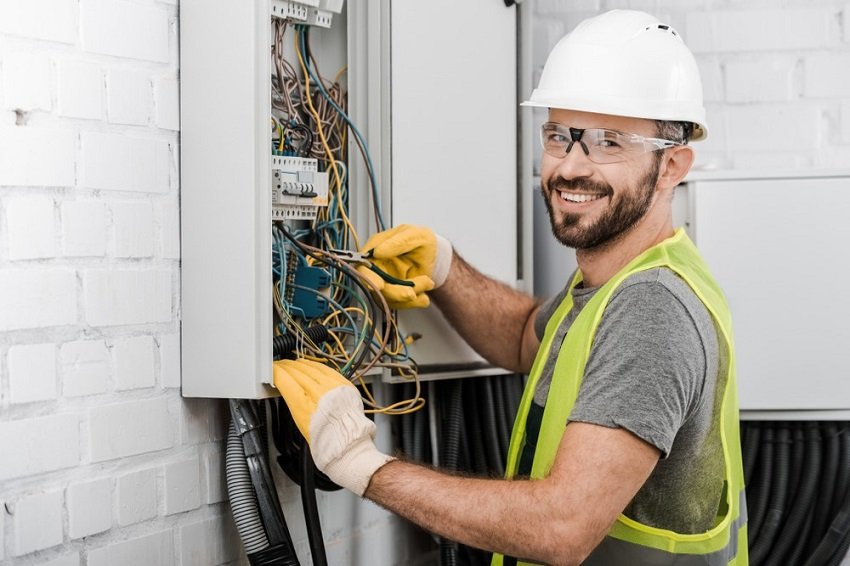 Some types of electricians, such as commercial and industrial electricians, can command far higher salaries, although these positions are also more likely to require a four-year degree (or more) in a subject like electrical engineering. For residential electricians, an associate's degree or apprenticeship program is a good start.
7) Wind Turbine Technician
In search of a job with a good salary that will be in high demand for years to come? The Bureau of Labor Statistics estimates a whopping 61 percent growth in wind turbine technician positions over the next 10 years as our electrical grid moves increasingly toward renewable power. Solar panel installation jobs are forecast for similarly turbocharged growth, although their median salary is slightly lower.
With such high demand for wind energy workers, programs that train new turbine technicians are springing up around the country nearly as fast as the turbines themselves are. It's a great career for those who have no fear of heights and enjoys a really good view—the average height of a wind turbine today is nearly 300 feet!
Trade certification in any of these trades will prepare you for a job with solid pay and solid prospects. On top of that, each is a tangible way to contribute to your community, which many people find important for their sense of purpose and satisfaction in life.
Recommended Read:
All You Need To Know About Construction Project Management