Technology is evolving at a greater pace, giving rise to the integration of sophistication and innovation into printers. It has compelled the manufacturer to comply with modern demands based on the latest trends in the printing industry. However, printers are pervasive machines. It is owing to the reason that printing machines are usually got and forgotten until it needs troubleshooting. In this way, small businesses usually pick printers that are less prone to errors and require the least maintenance.
So, here we provide a list of printers for small businesses to select the best printer for their office use – keep reading the post to review the presented machines critically!
Top 10 Best Printers for Small Businesses in 2023
The printer is an essential part of every workplace. So, every company wants to buy a machine that can cater to business requirements cost-effectively. Not only this, the consciousness for environmentally friendly printing has further set a criterion for selecting printers.
Let's consider the best printers to cater to the documentation requirements of small businesses for the year 2023 and beyond:
1. Xerox VersaLink C405/DN Color
Are you running a small business and looking for the best multi-function printer with laser technology? Your search for the best printing machines ends here! It's because Xerox deals in both black-and-white and color machines to meet your small business needs.
Xerox VersaLink C405 or DN color printing machines are considered easy to maintain for various printing requirements. Additionally, the printer's components are fully-loaded and can accommodate higher productivity regarding workplace printing requirements.
You will be surprised that the printer comes with wireless connectivity, a Google Cloud Print facility, essential Wi-Fi, and Apple AirPrint plugins. The functionality of all-in-one printing, scanning, and faxing makes it more suitable for small business companies.
---
2. Epson Expression Photo XP-970
Epson Expression Photo XP-970 is considered the best inkjet, all-in-one printer to accommodate all printing requirements of SMEs. If you have recently started a business and looking for a compact machine to perform all printing tasks, Epson XP-970 can offer you the best services!
For example, small marketing companies may need to print promotional content but cannot afford a heavyweight printer. So, business companies with such needs can rely on this machine. The printer type is inkjet, having 8.5 ppm printing speed for black, while the printer speeds are 8pmm with color printing.
Mostly, businesses use 8X10 inches paper prints for business documents and all. Still, you will be surprised to know that you can also print photos using this printer because it can come with six ink tanks and the capability of standard black and white printing.
---
3. HP LaserJet Pro M404dn
Many business people consider laser printing is better than inkjet. There may be many reasons behind this preference, but one obvious is the high quality and price. If you have an adequate budget and want something sophisticated when it comes to printing, it is better to opt for an HP LaserJet Pro M404dn printer.
The most interesting feature of this printer is the wireless connectivity. So, you can print from it using the PCs or connect through AirPrint. As its name indicates, the printer type is the laser, while the maximum printing speed is 40 ppm. The printer can only offer you black ink printing for your business documents at the fastest speed!
---
4. Epson SureColor T3170
Epson SureColor T3170 is a completed package for small printing agencies, marketing companies, and photo studios. The main reason this printer is a lucrative option for all small businesses is the top-quality print capability with an accuracy of colors. However, the price is relatively high compared to other printing models of the Epson.
So, if the success of your business depends on super-quality photos and color prints, you should not overlook the importance of buying this printer. It undoubtedly comes in handy with 2400 X 1200 dots per inch resolution for printing speed. The type of printer is an inkjet which makes it cost-effective and according to photo printing requirements.
---
5. Canon TS9120 Wireless Multipurpose Printer
The Canon TS9120 Wireless printer is the best budget for meeting various business requirements. If you want to transform your small business organizations into the most innovative ones, think of buying a wireless printer for your workplace. All-in-one printing machines can help you accomplish various tasks and activities using only one device.
The printer comes with six color tanks to help the companies deal with all their color printing needs, along with black-and-white printing. The five-inch touchscreen of the printer enables people to operate it easily without any difficulty. Interestingly, the printer offers eco-friendly printing.
---
6. Epson Workforce WF-100
Epson Workforce WF-100 is a mobile printer that takes printing commands through wireless technology. The machine is truly sophisticated and highly suitable for tech-savvy business companies. The non-traditional design of the printing machines makes them a valuable component of retail stores, small coffee shops, eateries, and other such businesses. So, why not consider this machine for your business?
Epson Workforce WF-100 is ranked as an innovatively portable printer to manage invoices, contract documents, and presentations in almost every business industry. The printer is chargeable through USB posts having a built-in battery that makes it more flexible. Additionally, the concise yet smart 1.4-inch screen allows ease of use.
---
7. Canon imageCLASS LBP214dw
The Canon imageCLASS LBP214dw printer is famous for its best speed and high price. It is a monochrome laser printer that can help business companies to do documentation in hard copies in a monochrome laser printer. The printer's paper tray can accommodate 900 plus sheets simultaneously, with the ability to print around 40 ppm per maximum speed. The printer can handle 8.5 X 14 inches of paper size.
This printer is unique in that it can incorporate different document types. More interestingly, the noise-canceling technology helps in maintaining peace while a higher amount of pages are printed. Also, this small business printer offers wireless connectivity.
---
8. Brother HL-L5100DN
The Brother HL-L5100DN printer is affordable and speedy for catering to small business companies. It is a mono laser printer that accommodates 40 ppm and can hold 300 A-size papers in its system tray. It is a compact unit. However, the printer has no built-in Wi-Fi system, including the tiny display.
The print quality is relatively good compared to other tiny printing machines. The best thing about the Brother HL-L5100DN printer is that it is cost-effective to meet the requirements of small and medium-sized businesses.
---
9. Xerox VersaLink B600/DN Monochrome Printer
Xerox VersaLink B600/DN is a turbo-charged printer to accommodate the heavy printing needs of businesses. The printer is suitable for catering to the documentation requirements of all businesses that need frequent printing now and then. A printer is a mono-laser machine with a speed of 55 ppm while the printing capacity is 550.
This one is for you if you run a printing agency or any other business where you must maintain many printed papers! Don't forget to consider buying this printer from reliable Xerox Dubai vendors to understand all features and facilities present in a printer.
---
10. Ricoh SP C261DNw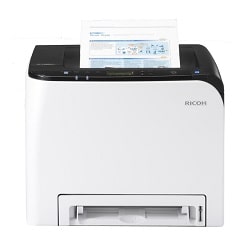 It is a color printer that can efficiently accommodate small businesses' printing requirements. The printer speed is 20 ppm, and it can print around 250 papers. The best thing about the Ricoh SP C261DNw printer is that it offers duplex printing. However, the printer doesn't come with noise technology, so you have to hear the song of the printer while maintaining your documents in print.
This product is not available on Amazon.
---
Keynote on Buying the Best Printer for a Small Business
Hopefully, you have a fair idea of the best printers suitable for small business companies! So, it's better to finalize your printer model and contact trusted vendors to buy it as earliest as possible.
Have you not finalized any printer yet? Do you feel confused? Consider the following tips:
First, note down all your business requirements to be better positioned to select a compatible printer.
Secondly, perform market research to pick approved or reliable vendors dealing in business printers.
Thirdly, shortlist a few models from the given list in this blog and research the features in more detail.
Fourthly, perform the cost vs. features comparative analysis to finalize only one suitable model per your business requirements and budget.
Contact reliable printing dealers to buy the best printer for your small business!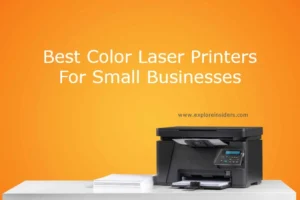 Recommended Posts:
Follow Explore Insiders for more business and gadgets-related guides.