Have you ever come across the problem of having the same content on different domains? Well, don't worry, as there is a tag for it that you can use. Using canonical tags, you can tell Google that duplicate or somewhat similar content exists on multiple domains. This tag has various smart applications that you must take advantage of.
With SEO canonicalization, you can post content across several domains without the fear of having duplicate content. You can also benefit from other websites re-posting your content and using third-party distribution networks to spread your content and increase its visibility. This way, you can maximize SEO across several domains that you own!
What is a Canonical (or Rel=Canonical) Tag?
A canonical tag, otherwise known as rel=canonical, is a way of telling search engines like Google that a specific URL is the master copy of a web page. Using these tags, you can avoid the problems caused by duplicate or identical content on your website that may appear on multiple URLs. Using canonical tags is the best way to inform the search engine which version of the URL you want to appear in search results.
In addition to tarnishing your SEO, duplicate content can severely negatively impact your website if not addressed properly and swiftly. So, get in touch with a professional SEO company in Dubai today that can help you canonicalize all the content on your domains that may pose a threat and harm SEO.
Multiple Domains Can Point to any URL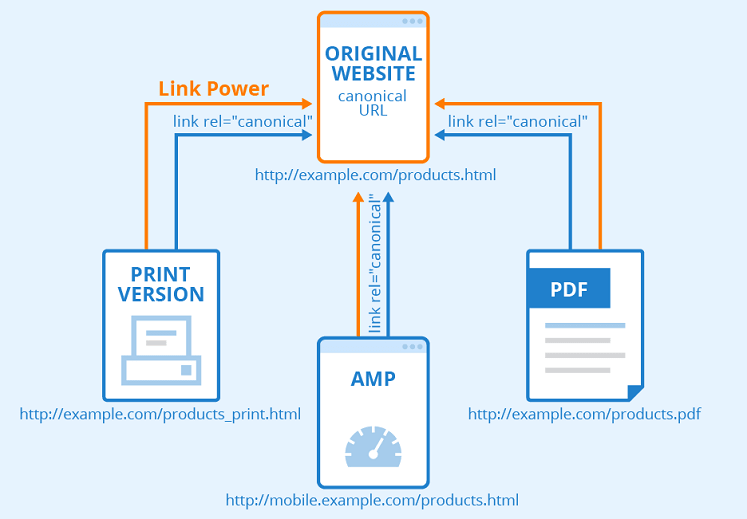 Using canonical tags is fantastic because this way, multiple domains and pages can point to one URL. For example, greendress.com, cocktaildress.com, and greendressesarebeautiful.com can contain a canonical tag and link back to the site that I want users to go to. This is a great SEO strategy to license your content so other people can republish it without losing your SEO.
Elements that need to match 
The page content does not need to match. This includes text, images, videos, etc.
Ideally, the headline of the content should match.
In content links also need to match to make sure Google will count canonical tags correctly.
Elements that don't need to match 
The URL does not need to match. It is ok if they are different.
The title of the content can be different as cross-domain canonical tags can be used for different titled pages.
Elements around the content like navigation bar etc., don't need to match either.
Cross-Domain Canonical Tags Best SEO Practices 
The following are some of the ways to use rel=canonical cross-domain and improve SEO.
If you have multiple domains, choose one that you want to get SEO ranking
Let's say you own multiple domains, and you would like to benefit from these domains and be able to publish one piece of content across all these domains. However, you don't know how to mitigate the duplicate content problem, but you want one of these domains to rank on the search engine; a canonical tag is what you need.
Using rel=canonical, you can tell a search engine that Site X and Site Y should not get credit for one content, but Site Z should get all the credit and rank on Google. DON'T try to rank two domains simultaneously; consult with a Spiral Click' SEO team and make sure all the tags point to one domain.
If a publisher wants to re-post your content on their domain, as for a link back
Let's say a publisher reaches out to you, and they say that they want to re-post your content on their platform/ domain. Let's suppose The Guardian reaches out to you, and they want to republish your piece on global warming, and they set up a price and everything. You can greatly benefit from this, but there is still the problem of duplicate content.
One way to benefit from this situation is to ask The Guardian for a link back by using rel=canonical. This is a great way to maximize your SEO because you receive credit from all the links that the content might generate.
Purchase or rent content from other domains
Now let's reverse the roles. Now you are a publisher and want to republish a piece of content from another domain. You could want that because you believe your readers would love to read that content. Let's say you reach out to the author of that piece to see if you can rent or purchase that article for a specific period.
In such situations, you should not force the author to remove the content from their domain. Instead, use a canonical tag on content to be able to republish on your website. This way, you can get the maximum benefits of SEO, and the author can get some money in exchange. It's a win-win situation for all.
Smart Canonical Tags Usage for Maximum SEO!
Using smart canonical tags on your online content can only prevent issues caused by duplicate content. It can improve the SEO of your website as well as its ranking and overall performance. Who wouldn't want to see these kinds of results, right? So, make sure to consult professionals to discuss ways to handle duplicate content on your website and across various domains.
The above mentioned are some ways to handle cross-domain duplicate content, so make smart SEO choices for your website.
Learn More:
Top Chrome Extensions for SEO And Digital Marketing
Key Essentials of a Small Business Website for Rapid Growth
A Brief Guide to Website Structure and Its Types