Despite the fact that Dubai's vast desert metropolis seems to be nothing more than shopping malls and air conditioning, many cultural organizations, galleries, and retail enterprises are working hard to attract a younger audience to the city.
So, you can find out for yourself why this city is so popular. Here, you may find a list of some of its most adrenaline-pumping activities. Check them out and discover what all the commotion is about!
Brief History of Dubai
Before moving further, let's look at a short overview of Dubai for building familiarity with the location!
Dubai has come a long way since it was founded 200 years ago as a peaceful fishing community. However, most of the United Arab Emirates possesses as well.
The region's current affluence and grandeur began in 1966 with the discovery of oil in the vicinity. The late Sheikh Rashid bin Saeed Al Maktoum developed the city using cash from the crude cargoes.
However, oil revenue currently accounts for less than 1% of Dubai's wealth. Since the 1980s, tourism and free zones have drawn tourists and international investment to the Emirate.
Now, this gleaming metropolis in the desert provides guests everything they might desire from an outstanding vacation in one convenient location.
Top 9 Unique Things You Can Do in Dubai for Fun Experiences
Having a unique experience in Dubai may lead you to believe that you must have a lot of money or be an influential person to enjoy such an experience.
Everyone expects to enjoy a memorable day in this massive city. But what you can do to have fun in the middle of UAE – let's consider some activities!
1. Visit Dubai Frame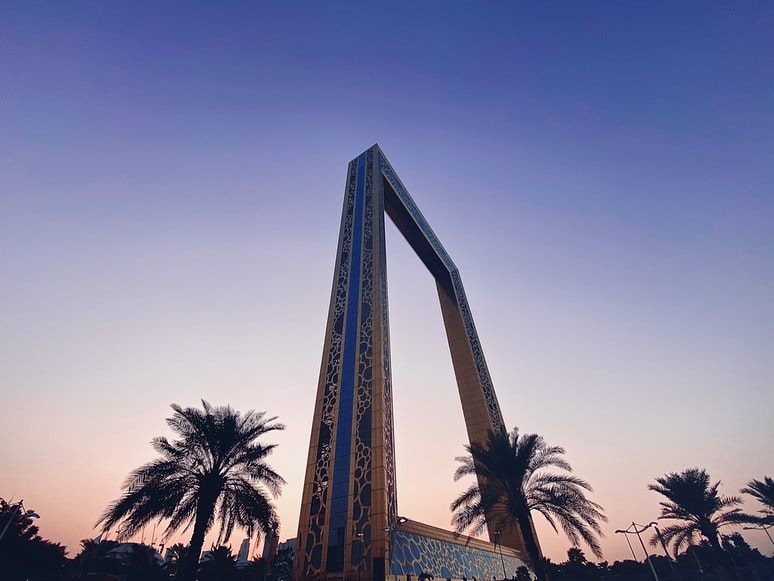 According to some sources, Dubai Frame is the largest picture frame in the world. Visitors may take a walk along a 313-foot-long glass promenade at the top of the roughly 500-foot-tall skyscraper, which is reached through panoramic glass elevators that provide panoramic views.
Tickets are available for purchase online or at the venue. Visitors with special needs or disabilities and children under the age of three can enter for free.
2. Drive a Sports Car on the Lush Roads of Dubai
The city of Dubai is a renowned tourist destination for those who are interested in automobiles. There are several high-end automobiles available for leasing in this city. When it comes to renting a car, you don't necessarily have to go for the most expensive model available.
Whether you choose a Bugatti, Lamborghini, or a Ferrari, the most modern models are easily available for acquisition. You may opt for a sportcar rental service for a short or long period of time. In this way, you can experience racing without investing a fortune.
Don't forget to bring the required documents for smooth processing, including your driving license and other papers.
3. XLine Dubai Marina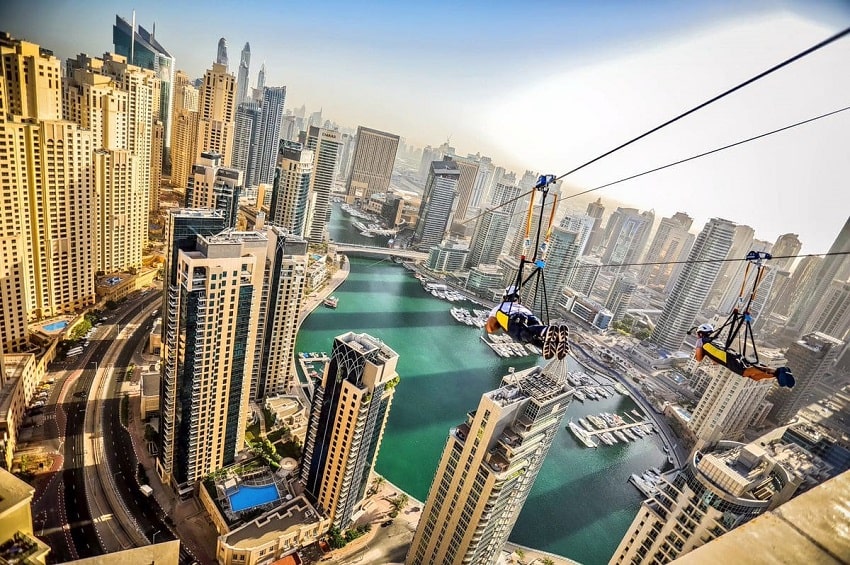 It is possible to soar belly-up over highways, buildings, and swimming pools in the Dubai metropolitan area. XLine Dubai is one of the world's most extended, steepest, and fastest urban Ziplines. It is located in the United Arab Emirates.
Aerial trams transport passengers from the Jumeirah Beach Residence to Dubai Marina at speeds of up to 50 miles per hour while passing through stunning views of the city along the way. You and a friend may even go on a tandem ride together.
4. Watch the Camel Race in Dubai.
Al Marmoom is a well-known historical landmark that draws camel racing enthusiasts from all over the world to watch the races. Taking part in camel racing is a fantastic opportunity to acquire a flavor of Middle Eastern culture, which has been around since the 7th century.
It is common to see camel owners, trainers, and handlers in the grandstands, and the majority of the seats provide superb views of the action. Consider the following: racing begins between 7 am, and 9 am on Saturday and Sunday, with Arabic-language commentary and announcements aired throughout the day on Saturday and Sunday.
5. Explore the Past of Dubai with Neighborhood
This lovely neighborhood provides a glimpse of Dubai's past before the foundation of the UAE in 1971. You may find traditions such as stone, palm wood, gypsum, and teak constructions. Traces of history and architecture punctuate these.
The neighborhood's tangle of lanes gives the impression that you're in a hidden village rather than a busy city, which is accurate.
6. Swim with Dolphins
You may visit Aqua-venture Waterpark to have an experience of swimming with Dolphins. The magnificent dolphins will allow you to get up close and personal with them during your Majestic Dolphin Swim experience.
Additionally, you'll get the opportunity to hug, kiss, and dance with these incredible animals in addition to a dorsal fin tow or belly ride. With the assistance of skilled trainers, you will understand the dolphins' natural habitats, behaviors, and other characteristics. Swimmers with more experience will benefit from this course.
7. Stand High at Burj Khalifa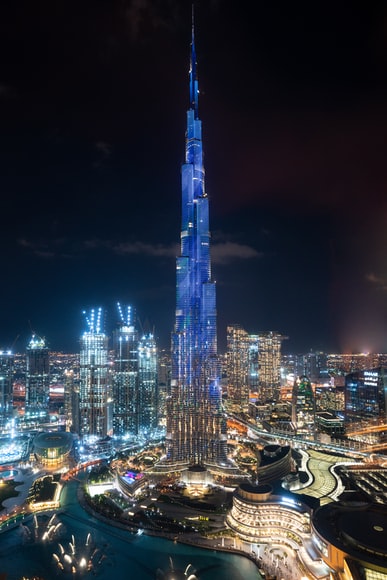 The world's tallest tower can be seen from almost every location in Dubai. For those seeking a more immersive experience, there is the option of ascending to the top of the 160-story behemoth using high-speed elevators.
It will bring ultimate amazement as soon as you step foot on the observation deck of the building. You may book a specific time slot for your tickets online and print them out at your convenience. Most first-time visitors to Dubai make their way to the top of the city's highest point.
8. Go to Legoland Dubai
The park is a sister park to other Legoland parks around the world, including those in Florida. A total of 60 interactive rides and thousands of Lego models will fascinate visitors at Legoland Dubai.
A total of 60 million Lego pieces were used to construct this indoor/outdoor theme park. It is intended for families with children aged 2 to 12. Despite the oppressive heat of summer, several indoor activities are as entertaining.
9. Visit Etihad Museum
Throughout this ultra-modern museum, the seven Emirates that make up the United Arab Emirates are shown in great detail. The museum is located on the site where the country's unification was officially ratified in 1971. Despite its size and wealth of collections, the Etihad Museum does not seem overwhelming.
Even if you're not a museum enthusiast, you'll find the exhibits intriguing and necessary to have a comprehensive experience in the United Arab Emirates.
There are many different types of tourists, including UAE nationals and historical enthusiasts, among the visitors. So, it's an opportunity to have fun while visiting the museum.
Pick What Activity You like and Have Fun in Dubai!
In recent years, Dubai has emerged as a global leader in innovation, technology, and tourism, owing to its iconic buildings, unmatched adventure activities, world-class entertainment, and unforgettable experiences.
Beyond its present appeal, the City of Gold is rich in history and culture, both of which are still very much alive. All the best for your next trip!
Recommended Posts:
Considering a vacation? Have you thought about staying at Palm Jumeirah in Dubai?
Follow Explore Insiders for more Travel guide and news.