The time-saving perks and efficiencies fail when a piece of technology equipment stops working properly. Yes, it's about the printers at your home or office. It's very frustrating when the printing machine is not bringing out the desired results owing to any issue. Such situations can cause a severe setback to your productivity and business at large!
This article containing essential printer troubleshooting questions and answers aims to eliminate your frustration by providing useful tips. Keep reading the post to get details for resolving your petty issues related to printers.
Common Printer Problem Questions and Solution Answers
Nevertheless, it's easy to let the printing machines make their mess without bothering anything – but you should not lose heart even at the peak of frustrating moments. It is because where there is a will, there is a way!
Recommended: Best Printers for Small Businesses
You can rely on a little know-how to resolve petty to complicated printer problems. Let's consider a few critical questions to help you get easy answers for doing it yourself:
Question 1: Why is the printer not working?
It is the most common question asked by many people when they realize that the printing machine is stuck somewhere and the printed paper is not coming out. If you feel that printing doesn't work, check it for power accessibility.
In case you have found that the printer is already powered on, try restarting the printing machines, and it will solve your problem. If you have experience with xerox printers, you may not face any such issues. But, if you find any, read the manual booklet to get the best solutions.
Question 2: Why printer photo quality is awfully bad?
It seems to be a petty thing until you get really poor-quality printing and are shocked. If you face this issue while taking prints of photographs in text documents, you should consider the printer settings. Besides this, make sure to use the right type of paper for printing images and graphs to get top-quality results. In case you have a photo printer, you can take a copy of the print on glossy paper to get high-quality photos with a bright shine.
Recommended: Best All in One (AIO) Printers for Graphic Design Professionals
Question 3: Why the multifunctional printer is not scanning anymore?
Sometimes, the users of multifunctional printing machines face scanning issues. It can be owing to the fact that the scanner software is not working correctly. So, you can resolve the problem of no scanning by installing the printing application again on your system. Still facing the issue, you can go through the printer manual to troubleshoot the scanning issue. Consider repairing in case the hardware has malfunctioned.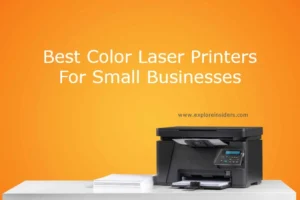 Question 4: How to solve paper jams in the printing machines?
It is owing to foreign objects stuck inside the printer. You may be facing the issue because the paper tray is overfilled or the paper is stuck inside the printer. Besides this, paper jams occur in the printing machines because of the excessive amount of dust accumulated in the printer. So, clean your printer to remove the dust and pieces of paper. Don't forget to insert the page manually if the issue remains static!
Question 5: What are the ways to resolve slow printing?
Is your printer slow? Ink dryness is one of the most common reasons for slow inkjet printers. To your shock, laser printers can also have the issue of slow printing. The best way is to compromise on printing quality to increase the speed. It is because the quality is inversely proportional to the time taken for printing.
Recommended: Fastest All in One (AIO) Color Laser Printer for Businesses
A better way is to consider the mode of printing if it is half-duplex or full-duplex. Sometimes, the printer takes time to flip the page, and you can resolve the issue by changing the setting to half-duplex or one-side printing.
Question 6: How to solve the issue of Wi-Fi Connectivity?
Gone are the days when printers had a tail attached to them. Modern-day printing machines have Wi-Fi connectivity to help the users take the printer from anywhere, anytime. However, people face issues of slow printing while connected to Wi-Fi or no connectivity at all.
It depends on the quality of the printer. You can get rid of no connectivity by getting top-quality printers for taking prints from mobile devices without any trouble. Besides this, you can solve this issue by considering the distance limitations. If you are trying to connect a printer from a considerable long distance, you will undoubtedly face a problem.
DIY Solutions can Help You Get Rid of Printer Problems!
Summing up, printers are the most common technology equipment found almost everywhere. From home to the workplace, you are frequently in touch with the printing machines to maintain the documents in hard copies.
However, certain printing experiences can be significantly frustrating as people may face adverse consequences. Hopefully, the post has helped to get the answers to your nerve-wrenching questions about printer issues. Don't forget to keep the machines clean for clear printing!
Recommended Post:
Follow Explore Insiders for more gadgets and printers guides.